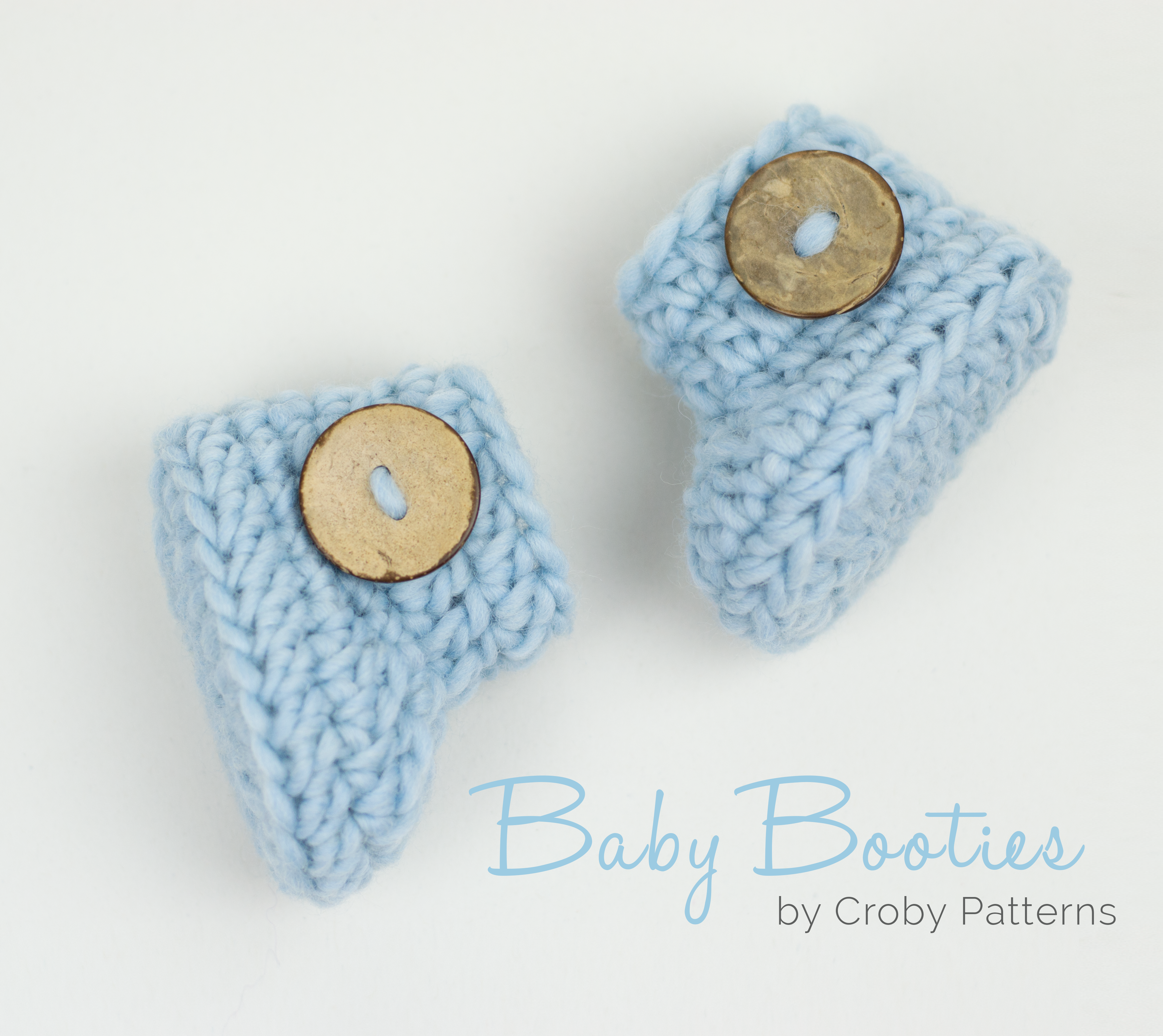 Hope you are all doing well. I am so happy to share with you a new pattern for baby booties this week. And it's a very special one! You ask why? Because it's super easy to follow and baby booties are made using this particular pattern in no time. 🙂  I would say, with a little bit of practice, 15 minutes max. 🙂 So if you are in a hurry to attend a baby shower and you need a gift, this might be a perfect solution for you. Even if there is no hurry, once you will try this pattern, you will see how awesome it is and you will use it all the time.
SUPPLIES
Super Bulky weight yarn – 100% wool Drops Eskimo yarn
yarn needle
stitch markers
3 cm (1.20 inch) big buttons
ABBREVIATIONS
Ss – slip stitch
Dc – double crochet
Dc2tog – join two double crochet together
St/Sts – Stitch/Stitches
PATTERN NOTES
The pattern is worked in rounds. Join at the end of each round with a slip stitch. In this case, slip stitch does not count as a stitch.
The pattern starts with a chain.
You will need a small amount of each yarn. I used around 34 m of yarn for both shoes.
If the number is written before the stitch

3 hdc

work 3 hdc into the same stitch, if the number is written after the stitch

hdc 3

, work hdc into next 3 stitches.
Use stitch markers. Always mark your first stitch of the round.
SIZE
VIDEO

If you would like to see more videos please subscribe HERE. It's free!
CROCHET BABY BOOTIES INSTRUCTIONS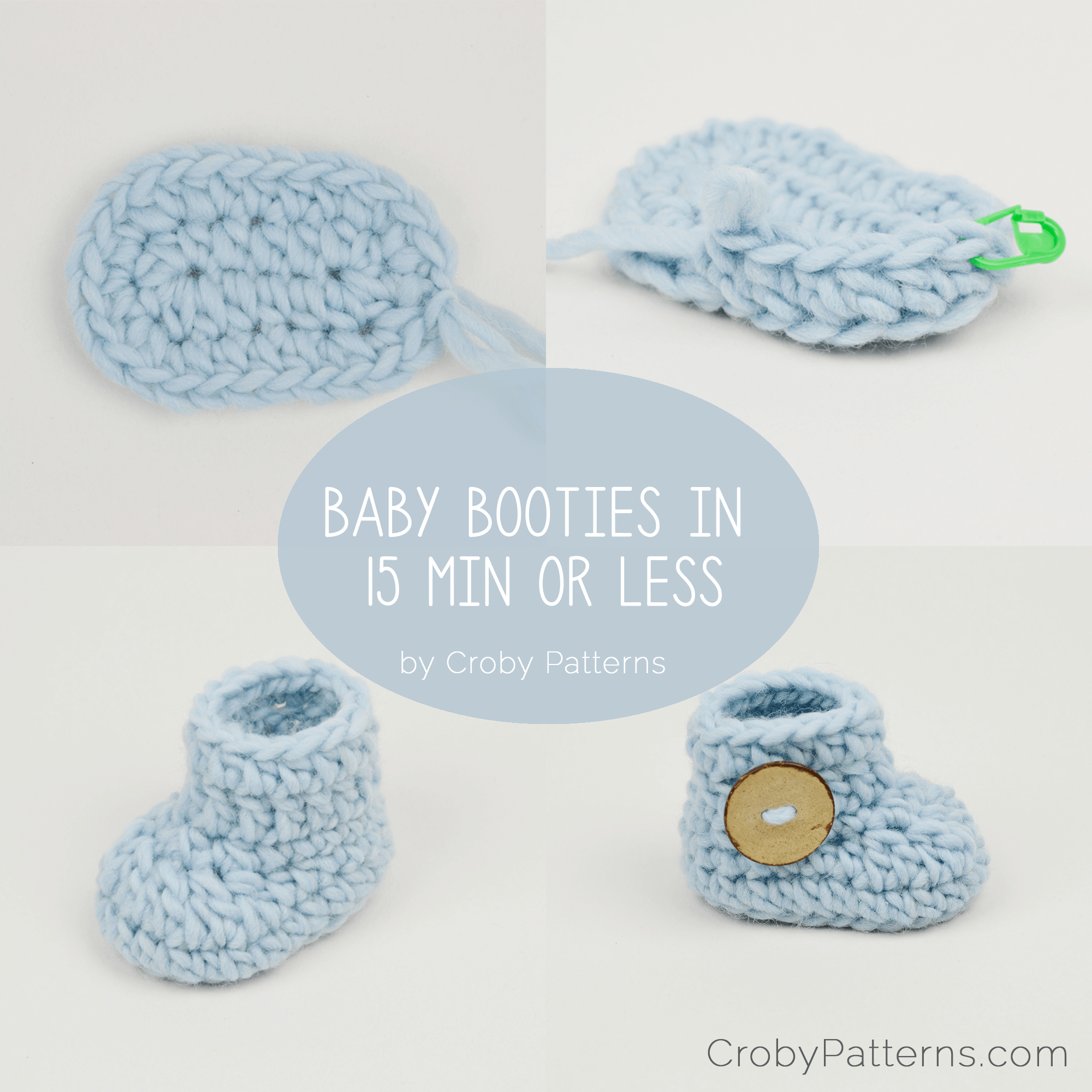 SOLE
Ch 6. Start in the 2nd ch from the hook.
Round 1: 2hdc. Hdc 3. 6 hdc sts into the same ch. Continue on the opposite side of the ch. Hdc 3. 2hdc. Ss.
Round 2: Work 2 hdc into next 2 sts. Hdc 3. Work 2 hdc into next 6 sts. Hdc 3. Work 2 hdc into last 2 sts. Ss.
If you would like to create a shoe in more than one color, now is the time to change it.
UPPER
Work round 3 and only round 3 into back loops only!
Round 3: Chain 1. Hdc all way around. Join the round with a ss (ss does not count as a stitch) = 26 sts.
Round 4: Chain 1. Sc 5. Hdc 2. Repeat dc2tog six times. Hdc 2. Sc 5. Join the round with ss. = 20 sts.
Round 5: Ch 1. Sc 1. Sc2tog. Sc 4. Repeat hdc2tog three times. Sc 4. Sc2tog. Sc 1. Ss. = 15 sts.
Round 6: Ch 2. Dc 15. Ss. = 15 sts.
Round 7: Ch 1. Hdc 15. Ss. = 15 sts.
Fasten off.
BUTTON
Take some yarn and a yarn needle and sew the button on the side of each shoe.
Thank you so much for stopping by! Don't be shy and subscribe to my blog and my YouTube channel. I share new tutorials almost every week!
Love you all!♥
Doroteja
All the patterns here on crobypatterns.com are the property of Croby Patterns Designs and are for your personal use only. The pattern or parts of it may not be reproduced, distributed or resold, translated, published or posted for sell or free on the internet or offline. You can sell finished items made from this pattern (Permission is not granted for mass production or factory manufacturing of any kind) but please clearly credit the design to Croby Patterns so I will be able to continue creating new designs for you. Please provide a link to my blog crobypatterns.com. Read more …
I include affiliate links in my blog posts as a part of what yarn do I use or my supply lists. Purchasing from these merchants earns me a small commission with no extra cost to you and helps my small business to grow so I can share even more patterns with you! 🙂