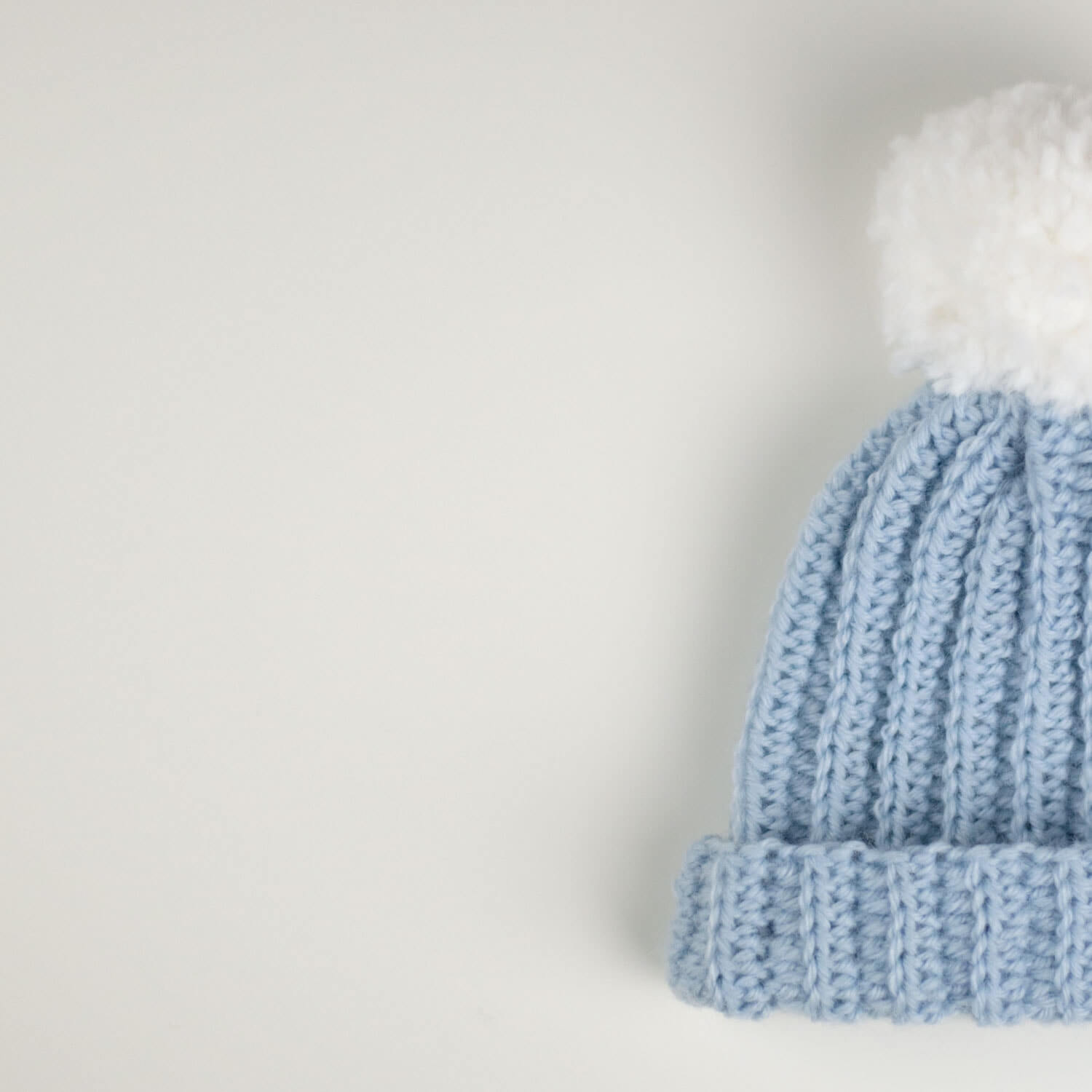 Hello everyone! I have been posting a lot of tutorials on my blog and  YouTube lately, but most of them are for stitches and different crochet techniques so I can link them to my crochet patterns when needed. I personally think it's priceless when you are just a click away from the stitch that is new and unfamiliar to you. Sometimes is just hard to find a great video or photo tutorial to solve the crochet mystery. Today's blog post will be different. Do you remember my video How to work in front/back loops only and How to make a pom-pom from a few days ago? Great! Because we will use the knowledge from these two tutorials to successfully finish our next project.
Today we are going to be making a cute crochet baby beanie. If you are a total beginner, don't worry. This is a perfect first crochet project for you. This beanie is a super easy to make and you can finish it in no time.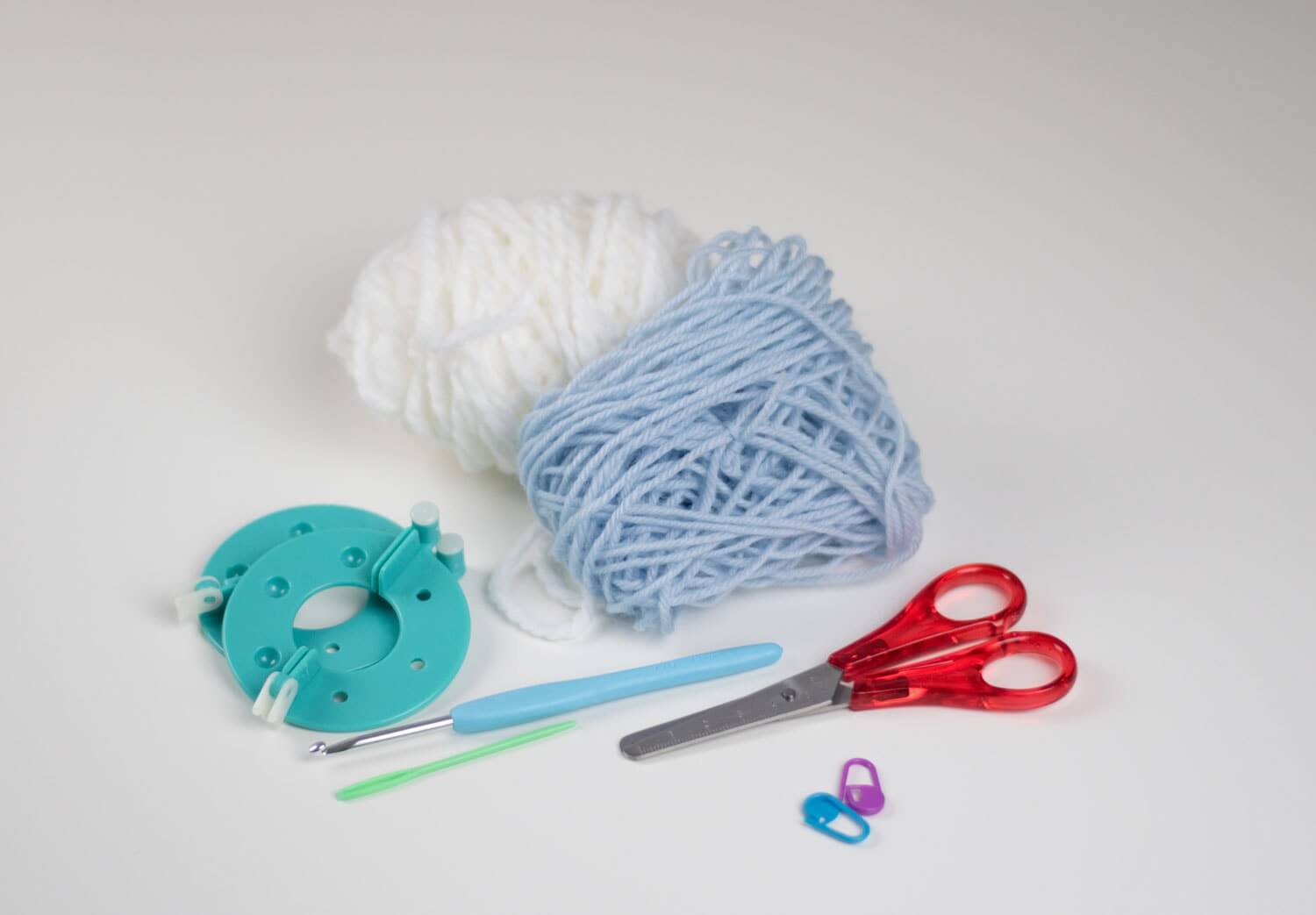 There are a few thing that you might need for this project. You will need some DK weight yarn for the main part- beanie. I was using Drops Karisma 100% wool yarn. 100% wool yarn can be a bit itchy on skin. Especially on baby's skin, so maybe use a Marino or cotton instead. You will also need some bulky weight yarn. Mine is a blend of acrylic and wool. The thicker the yarn the bigger and more fluffy the pom-pom will be. Simple as that. You will also need some measuring tape, stitch markers, yarn needle, scissors and a pom-pom maker. You do not need some fancy pom-pom maker to achieve nice pom-poms. I am using these very basic plastic pom-pom making kit that I bought at my local yarn store. You can even use two disks made from the cardboard or your hand.
Our aim will be to crochet a simple crochet fabric that is 11.8 by 6.7 inches. We will start with a chain and the length of the chain will represent how tall our beanie will be. Measure your chain, make sure it's 6.7 inches or 17 cm long, if not add or take away few chains. My beanie will have 37 rows of hdc stitches and each row will have 33 stitches. This means our foundation chain will be 33 chains plus one additional chain to lift our first row. We will work in rows and we will work in back loops only.
If you would like to make your beanie bigger, add stitches to the row so your beanie will be tall enough and add additional rows to achieve the circumference of the beanie you need.
You can find an inexpensive beautify designed Pdf version of this pattern in my Etsy or Ravelry shop. This particular pattern is available in all sizes, from newborn up to adult size. So, if you end up buying my pattern, thank you so much, it means a lot. 🙂
SUPPLIES
ABBREVIATIONS
ch – chain (

VIDEO

)
BLO – back loop only (VIDEO)
st/ sts – stitch/ stitches
hdc – half double crochet (VIDEO)
PATTERN NOTES
The pattern is worked in rows.
Every row starts with a ch 1 to lift a row and hdc into the last st from the previous row.
Use stitch markers to mark your first stitch of the row.
If the number is written before the stitch 3 hdc work 3 hdc into the same stitch, if the number is written after the stitch hdc 3, work hdc into next 3 stitches.
You can find an inexpensive and beautifully designed PDF version of this pattern HERE. Thank you! 🙂
SIZES
0 – 3 months
3 months and up to adult size – in PDF pattern only
VIDEO TUTORIAL

If you would like to see more videos please subscribe HERE. It's free!
CROCHET BABY BEANIE INSTRUCTIONS
BEANIE
Chain 34. Start in the 2nd chain from the hook.
Row 1: Work 1 hdc into next 33 sts. = 33 sts.
Row 2 – 37: BLO. Ch 1. Work 1 hdc into next 33 sts. =33 sts.
Fasten off and leave long tail for sewing.
Fold the crochet fabric in half and sew both sides together.
Now take a small amount of yarn and close the top of the beanie weave the tail around the top end of the beanie and pull tight. Work a few extra stitches in to secure the closing.
POM POM
Take your pom-pom maker and some white bulky weight yarn and make a pom pom. Attach the pom-pom on the top of the beanie and you are done.
Thank you so much for stopping by! Don't be shy and subscribe to my blog and my YouTube channel. I share new tutorials every week!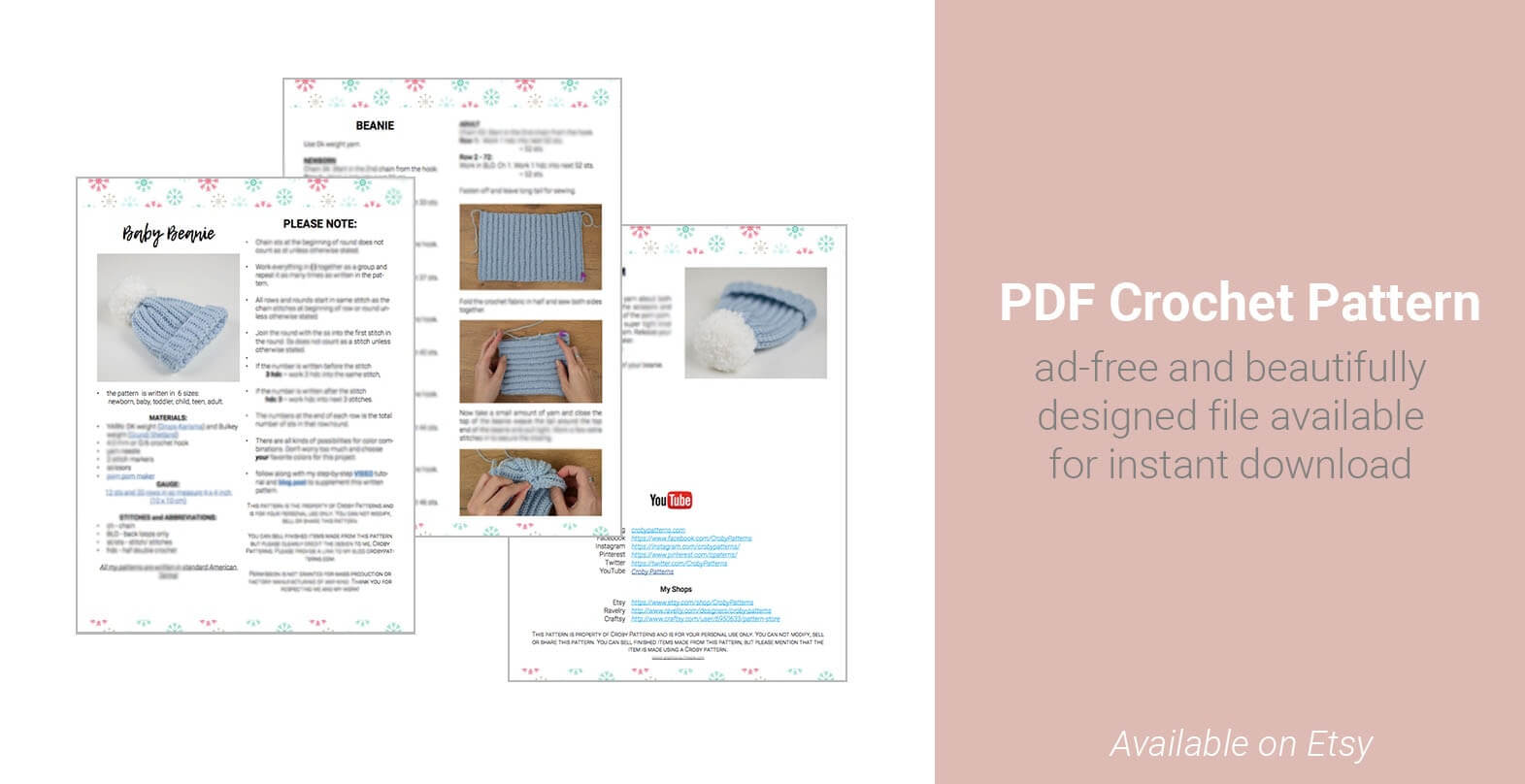 All the patterns here on crobypatterns.com are the property of Croby Patterns Designs and are for your personal use only. The pattern or parts of it may not be reproduced, distributed or resold, translated, published or posted for sell or free on the internet or offline. You can sell finished items made from this pattern (Permission is not granted for mass production or factory manufacturing of any kind) but please clearly credit the design to Croby Patterns so I will be able to continue creating new designs for you. Please provide a link to my blog crobypatterns.com. Read more … 
I include affiliate links in my blog posts as a part of what yarn do I use or my supply lists. Purchasing from these merchants earns me a small commission with no extra cost to you and helps my small business to grow so I can share even more patterns with you! ?